A Little History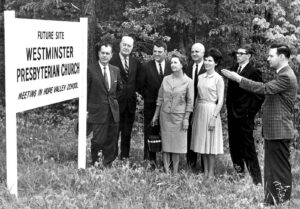 In September 1962, about a hundred people gathered at Hope Valley School to lay plans for the organization of a Presbyterian church in the rapidly growing southwest Durham area. Westminster Presbyterian Church was founded in 1963 by Granville Presbytery (now New Hope Presbytery) with 124 charter members. Our first worship service was held on May 26, 1963, at Hope Valley School. In early 1965, the congregation began raising funds to build its own building, and the land for Westminster's campus was donated by Mrs. C.T. Council, Sr. The Education Building and Fellowship Hall were completed in early summer 1967.
Our Vision
Westminster is guided by Micah 6:8:  "And what does the Lord require of you but to DO JUSTICE, and to LOVE KINDNESS, and to WALK HUMBLY with your God?"
Do  Because God calls us to do justice and to love our neighbors, we feel called to better know and understand those who live and work around WPC. With this knowledge, we seek to engage and work shoulder-to-shoulder with our neighbors in the spirit of mutuality and respect.
Love  Our hope is for WPC to be a community in which all feel deeply connected – to each other and the larger community. This connection means that members know each other and are known, caring for one another in difficult seasons, and placing the church at the center of their lives.
Walk  We want to be as prepared as possible for the important work to which we are called and this begins with a clear Christian identity. By deepening our spiritual lives through discipleship, testimony, and Bible study, we build our capacity to achieve the kindness and justice to which we aspire.
Our Mission
We are a community, a covenant people. In response to God's love and grace, we proclaim and demonstrate the Gospel of Jesus Christ within our congregation, throughout the community and to the world. As disciples in the Reformed Tradition, led by the Holy Spirit, we affirm our faith through worship, nurture, outreach, stewardship, and education. We go into the future with hope and confidence in God's purpose.
Being Presbyterian
Presbyterians pride themselves on taking time and working thoughtfully through matters of faith and life. What we believe matters. The Presbyterian Mission Agency has more resources on a variety of theological and social issues.
We believe in the God who created all, who came to earth in the form of Jesus Christ, who died and rose again to free us from sin so we might live and serve joyfully together. We believe that the Spirit accompanies us on this journey, guiding us as we seek to be faithful each day. One way that faith is expressed is through The Brief Statement of Faith.
We underline those beliefs at Westminster through our worship, through our commitment to teaching and learning, through struggling with Scripture, and through our deep commitment to serving others in Durham and beyond. Our beliefs must work in partnership with real action in the world.
Coming and watching us as we try to live faithfully is the best way for you to find out what we believe.  As always, feel free to contact a member of our staff with questions. We all have much to learn.
Our Welcome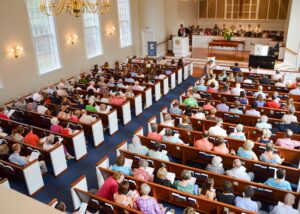 Westminster Presbyterian Church welcomes all to participate fully in the life of the church. Jesus, in his life and teachings, acknowledged all persons as wonderfully made children of God, each equally worthy of God's unconditional love.
So, striving to follow Jesus, we welcome everyone, with affirmation and celebration, praying God will draw us into deeper relationship with each other and with Christ as we worship and serve together.
If you have known the pain of exclusion and discrimination in the church or in society, know that you are welcome here.
At Westminster, ordination of church officers and member weddings are celebrated as acts of the Holy Spirit at work in the church regardless of gender identity or sexual orientation.   
Learn how Westminster's Welcome statement was developed and how we can live into the values we proclaim together with these resources: