At Westminster, our goal is to present great sacred music as an integral part of the church's worship life. This is our musical offering to God and this beautiful community, and we invite everyone to participate!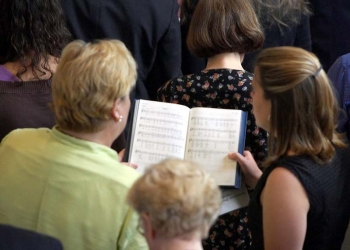 The vitality of worship at Westminster is due mainly to our classically oriented music program, which gives glory to God while honoring the best of historic and present-day worship traditions. Westminster's music program currently includes the Chancel Choir, Summer Choir, Westminster Ringers (handbell choir), Brass Ensemble, and seasonal ensembles like the Lovefeast Choir, and Children's Choir (for the Christmas pageant and family service on Christmas Eve).
With its beautiful Reuter pipe organ and lively worship style, the sanctuary rings with enthusiastic congregational singing and great organ, choral, handbell, and instrumental music. Each Sunday, we listen as the works of Bach, Buxtehude, and other great organ composers are played, inspiring us to bring our whole selves to worship – mind, heart, and spirit. Above all, powerful congregational hymn singing energizes worship. Westminster's dedicated ensembles present many types of sacred music in worship.
Equipped with a varied and ever-growing music library and a wonderful music room with excellent acoustics, gorgeous Steinway grand piano, and ample seating capacity, Westminster continues to build on its solid musical foundation, learning, inspiring, and growing in grace through great sacred music.
Being a part of Westminster's music program is not only rewarding on a personal level but also enriches the church's common ministry in truly vital ways. Everything flows naturally outward from the central point of worship, creating a vibrant community of believers determined to make a difference in the world. All who love to sing or play music are enthusiastically invited to participate in Westminster's music ministry!