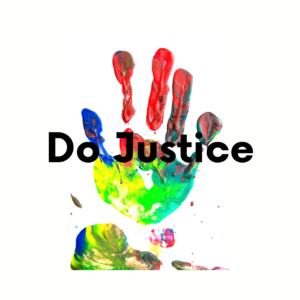 As we know, the prophet Micah says that to do justice is one of three things the Lord requires of us. Justice was also the focus of the Present Word Church School lessons this past winter. As the Adult Sunday School Class at Covenant Presbyterian Church studied those lessons, they realized they were complaining about injustice instead of actively doing something to make justice prevail. They formed a group to communicate their concerns and wishes to government officials. But they didn't stop there. They invited other Presbyterian churches to join them, and this team became the Moral Message Ministry.
Since early this year, members of Covenant, Westminster, First Presbyterian, Cary Presbyterian, Trinity Avenue, and the Church of Reconciliation have been meeting weekly to pray, learn about legislative initiatives, and write to government officials or newspaper editors. The team also developed this mission statement:
As people of faith, we seek to bring more love and inclusion to government policy at all levels. We strive to listen to God and understand others while influencing government policy, legislation, and action toward equity and justice for all.
This ministry is part of the work of Westminster's Racial Equity Committee, whose purpose is:
To engage the Westminster community in dismantling systemic racism through a process of learning, spiritual growth, and individual and collective actions. As a community, a covenant people, we want to do this in a way that helps us move towards God's vision of creation, bound together in our fight to ensure justice, equity, and inclusion for all.
The Love signs we made on Rally Day and the call to make sure you are registered to vote are ideas from the Moral Message Ministry. We have even hosted an informational meeting on redistricting, which you can view on YouTube.
Members of the Moral Message team are now reaching out to their congregations to encourage more people to get involved. The overarching premise is to educate ourselves and then raise our voices where policy and political processes ignore or, worse, actively diminish the rights of one group in relation to another. In the coming weeks and months, the team will be forming groups to research different areas where injustice prevails. We will also keep you informed about pending legislation. We hope to engage all of you in wrestling with what it means to do justice and take steps to do it! Let us know if you know about legislation you think should be addressed. Let us know if there is a particular societal situation you would like to see addressed. If you disagree with a stance we have taken, let us know, and we can explore doing justice together and learn from each other. Suggestions or concerns can be emailed to the church office, which will share the information with the Moral Message Ministry and/or Racial Equity Planning Committee.
Your Voice, Your Vote
One of the foundations of justice in our society is good government, and good government requires that its citizens participate by voting. It's important that we vote, both as citizens and as Christians. Visit the NC State Board of Elections website to find everything you need to know about voting in the upcoming elections, from registering to vote for the first time to finding your precinct, early voting, and viewing a sample ballot.  Please note that signatures on mail-in ballots must be notarized or observed by two witnesses. WPC's business manager, Sharon Morgan, is a registered notary – please contact her for an appointment if you would like to have your mail-in ballot notarized.