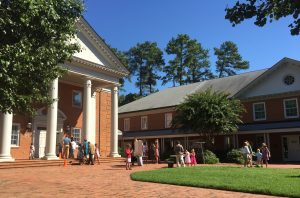 Westminster is blessed with a beautiful campus to serve the needs of the church and the community at large. The land it sits on was given to Westminster by Mrs. C.T. Council Jr. Church members and community groups may request to meet on our campus. Please call the church office at 919-489-4974 to learn more or make a reservation.
Sanctuary
We gather here for worship on Sunday mornings and for special services throughout the year.
Courtyard
Another gathering space, the Courtyard is situated at the heart of campus.
Fellowship Hall
Construction on our new Fellowship Hall was completed in 2021. We gather there for meals and programs; our preschool uses it for its "Fit Kids" program; and our sister congregation, La Nueva Jerusalén, meets here for worship on Saturdays. We are happy to make this space available to community organizations in need of gathering space – please call the church office for more information.
Holderness Mission Center
The Mission Center is so named because that is the role this building serves – to equip us for mission in the world. Upon the retirement of the Rev. Haywood Holderness, Westminster's Pastor Emeritus, the building's name was updated to honor Haywood's commitment to connecting the church to the community through mission.
Ground floor: Westminster School for Young Children, nursery, and Church School classrooms
Second floor: Main lobby, staff offices, Parlor, and conference room. The main entrance from the Courtyard is on this floor.
Third floor: Church School classrooms, the Youth Suite, and the Music Room
Memorial Garden
In 1986, Westminster built a Memorial Garden to use as a resting place for cremains. The garden also serves as a lovely outdoor site for meditation.
Prayer Trail
Westminster's Prayer Trail includes mulched paths and benches that invite reflection, prayer, and meditation in God's good creation.
Westminster Community Garden
The Westminster Community Garden, created in April 2011, grows vegetables, herbs, and flowers. The plants harvested from the garden are sold on a donation basis, with proceeds donated to the Food Bank of Central and Eastern North Carolina. Volunteers are encouraged to come help harvest produce.
Playground
Westminster's playground is a fun space for church and preschool families.
Calhoon Cabin
In the summer of 1975, the congregation built a log cabin, later naming it the "Calhoon Cabin" to honor Forest Calhoon, who led the congregation in its construction. The Cabin is used by Boy Scout Troop 451, La Nueva Jerusalem, and the Westminster School for Young Children.
Image Gallery