Aperture is a gathering of folks seeking light on God's truth through the stories, struggles, and experiences of God's people. Aperture brings speakers and seekers, authors and professors, formers and reformers to help us focus more on God's truth all around us. Watch past Apertures on our YouTube channel.
"Remembering the Dead in the Borderlands" with Isaac Villega
March 15, 7:00pm
Nation-states depend on borders to define their identity. No matter where we live on this continent, we live under the conditions established by the policies and strategies that secure our borders from people who haven't been granted permission to join us on this side. Isaac Villegas will describe several communities in the US-Mexico borderlands that have developed religious rituals to honor people who've died while trying to cross. Last year more than 800 people died in the desert; since 1998, more than 8,000 people have died.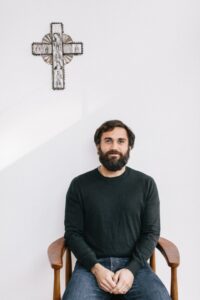 Isaac Villegas grew up in the US borderlands as a child of Latin American immigrants. For the past sixteen years, he served as pastor of Chapel Hill Mennonite Fellowship. Currently, he is a Ph.D. student in religion at Duke. He is a contributing editor for The Christian Century magazine, and his writing has recently appeared in various publications, including Anabaptist WItness, Anabaptist World, Christian Century, Commonweal, Modern Theology, Ruminate, and Sojourners.
Register for Aperture