Aperture is a gathering of folks seeking light on God's truth through the stories, struggles, and experiences of God's people. Aperture brings speakers and seekers, authors and professors, formers and reformers to help us focus more on God's truth all around us. Watch past Apertures on our YouTube channel.
December 14, 7:00pm – Ruth Caccavale and Monica Rossman:  "The Art & Music of Advent"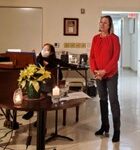 In what has become a beloved tradition, Ruth Caccavale and Monica Rossman collaborate to bring a lively and meaningful offering of the art and music of Advent. Join us in the Music Room on the second floor for light refreshments followed by this informative program.
A member of Westminster, Ruth taught art at Rutgers University and currently works in the education department at the Nasher Museum. Monica has been an active church musician for more than 40 years, serving as Associate Chapel Organist/Assistant Director of Choral Activities at Duke and on the music faculty at Ohio State before joining the staff at Westminster in 1994. Childcare will be available for ages 8 and younger if requested – email Marietta Wynands.
Register for Aperture