Worship with us on Sundays in our Sanctuary or on YouTube!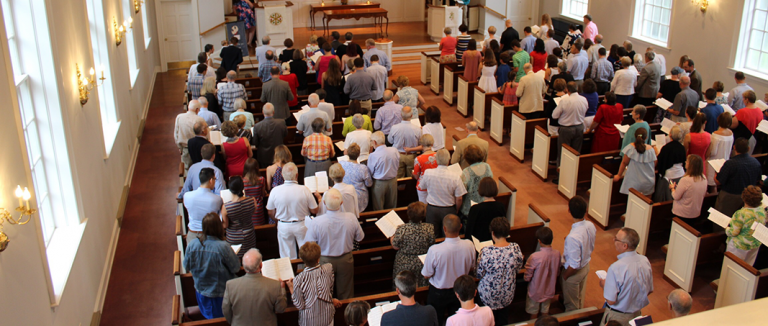 Worship is at the core of who we are, as a community and as individual people of faith. God gathers us — young and old, from different backgrounds and neighborhoods — to listen for the Spirit's dynamic work among us. We bring our burdens and joys as we pray and sing, as we gather around scripture, listening for God's promises. These promises are both words of comfort when things get hard, and words of challenge to use what we have been given to serve others and serve God. Our worship is traditional in form, but far from stuffy and overly formal. All are welcome here.
Sunday Morning Schedule
Church School Classes:  9:45am (September-May); Some of our adult classes meet year-round.
Classes are held in the Holderness Mission Center – you'll find a directory of classrooms at the entrance.
Worship Services:  8:30 & 11:00am (September-May), 10:00am only from Memorial Day to Labor Day
Communion
We gather around the Lord's table each month to be fed by the risen Christ and equipped for mission in the world. All members and guests are welcome at the Lord's table. We serve communion by intinction, which means the congregation comes forward to have the body of Christ broken for them, and to choose wine or grape juice. The communion bread is gluten-free. Helpful information about the communion service is included in each Communion Sunday worship bulletin.
Childcare
We love children! Parents of young children will find a community that is sensitive to their unique needs at Westminster. Parents can choose to have their kids in childcare for the entire service or to escort them down to the Nursery after the Children's Message to receive care in a safe and supervised environment. The Nursery is managed by a professional staff team who are assisted by member volunteers.