Durham artist and photographer Ryan
Helsel is hosting a
photography workshop for teens based on Genesis 32 and the theme of "limping forward with hope." It's part of
The Art of Renewal,
a summer series to explore and express through art how God has accompanied us in times of challenge, renewed our spirits, and walked with us into hope. The youth photography workshop will be
held on Westminster's campus on Sunday, June 18, 2:00-6:00pm.
There are only 15 places available in the workshop, so sign up now!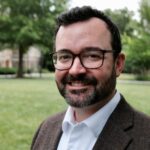 Ryan Helsel (b. 1980, Indiana, US) is a parent, partner, educator, artist, and photographer based in Hillsborough, NC. His photographic work focuses on hyper-local landscapes and found artifacts; the route he walks his dog, the drive to and from work, and most recently, the nearby forests and rural landscapes he explores with his two young children. Find him on Instagram @ryan_helsel_.