An "Art of Renewal" Workshop with Artist Jaclyn Bowie
Sunday, June 4, 11:00am-12:30pm & Wednesday, June 7, 6:30-8:00pm
Participants should plan to attend both sessions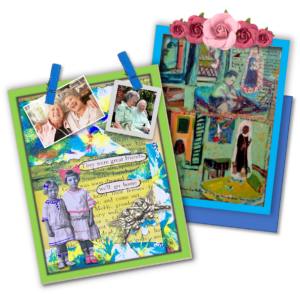 The word "retablo" comes from the Latin for "behind the altar" in reference to devotional paintings placed in Catholic churches. Retablos can be found in churches, shrines, and homes across Mexico. They are small, brightly colored works that incorporate words, pictures, and images to tell the story of an individual's spiritual journey. Come create a retablo of your faith journey! Pre-workshop journaling exercises will prepare you for creating your artwork (see below for more information).
What is a retablo?
A traditional retablo is a devotional painting, especially a small popular or folk art one using iconography derived from traditional Catholic church art. Folk art retablos-style artworks generally contain a composition portraying a simplified scene as if it were being acted on a stage. This scene is sometimes created within a frame or shadowbox painted in bright colors and embellished with 3-D ornaments. The bottom third is generally a space for written text describing the event. The space above the text is used to visually depict what happened and the intervening saint (or for our purposes, the form in which God or grace became evident during our time of struggle). Realism is not important. It is the emotional and personal experience of the participants that is emphasized.
Our goal
Through this project, we'll explore the ways we all limp and how God has walked with us. We'll learn and share and create. We'll also pray that being more honest about the ways we limp might make us a stronger, more honest, more connected faith community. We hope to create art that expresses how God has accompanied us in times of hurt.
Your Retablo journal (pick yours up from Marietta prior to the workshop)
It will help you create a retablo that is meaningful to you. Before starting the artwork, it is helpful to clarify your experiences by journaling words or images to describe what you are feeling. What are the key elements that shape your perceptions, challenge your resilience, test your strength and even your faith? Reflecting on and naming the various aspects that contributed to your experience will make it easier to come up with ideas you might incorporate into your retablo creation. Journal entries may be words, phrases, sketches, etc. You may collage elements into the journal or copy thoughts from another source. This journal practice is about tapping into memories and focusing on sensory details, emotions, and the storied layers of your own experience. Think of this as a meditative and creative process undertaken to benefit you and for your eyes only. There are no judgments, no wrong feelings, just a willingness to make rich observations from a place of self-reflection.
It is highly recommended that you watch this video by Jen Hernandez Art that walks us through a similar journaling process: 
About the Artists
Jaclyn Bowie (she or they) is a queer artist and arts educator born and based in the lush and diverse Piedmont region of North Carolina. Darkroom photography is Bowie's current passion, and she teaches high school photography at Durham Public Schools. Driven by curiosity and a love of learning, Bowie does not identify as a photographer as much as an artist of many mediums and master of none. A deep love and respect for all of nature is her muse and comes through her work and play. Bowie earned a bachelor's degree in fine art from Appalachian State University and exhibited her work extensively before the 2020 global pandemic steered the focus of her artistic career toward public education. Bowie lives by the Eno river and enjoys hiking, roller skating, traveling, and learning Spanish.
Carin Walsh is a museum educator, artist, and exhibit organizer. Her painting, animation, and audio/video work have been exhibited throughout the Triangle. Walsh splits her time between her work at the Nasher Museum of Art, developing her studio practice, and exhibiting as part of WALSH/BLAZING, a collaborative art practice focused on environmental messaging through visual art. She is trained in visual thinking strategies and regularly engages viewers in meaningful discussions about art.