Celebrate Jazz, Food, Music, and Art at Westminster in September
Westminster is blessed to have many gifted musicians, many of whom have a passion for jazz! We will be celebrating the gift of jazz this September featuring some of Westminster's own and their groups. You don't want to miss this! Register here for any or all of these events.
Wednesday, September 21
BBQ with the Durham Jazz Orchestra, 5:30 – 6:45pm, in the Courtyard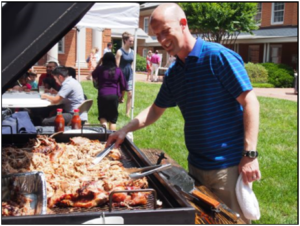 Bring a picnic blanket or lawn chair to Westminster's courtyard and enjoy delicious BBQ (prepared by the extraordinary Forrest Perry), along with the silky sounds of the Durham Jazz Orchestra! The Durham Jazz Orchestra is an 18-member, all-volunteer big band that has been entertaining Triangle jazz lovers for more than 25 years. Westminster member Blair Chesnut has played the trombone with them for ten of those years. The Fellowship Committee is planning a delicious meal (donation requested), and there will be children's activities for the young ones. Invite your friends and neighbors, and join us for a wonderful evening of jazz, food, and fellowship!
"Stomping The Blues, Embracing the Gospel, and All That Jazz,"
September Aperture with Jim Ketch, 7:00pm in the Fellowship Hall
Jazz has been called the soundtrack to the American 20th century. For many, jazz represents America's richest cultural gift to the world. Yet, the music could not have been born from a more brutal history, personal and political. This Aperture lecture will introduce the blues, gospel, and jazz – essential "impulses" of black culture in America. We will also explore this notion: might jazz be better appreciated and understood in relation to the Christian faith? We will consider the connection between jazz and the Gospel through the movement from deep lament to inextinguishable joy. In the process, as author Albert Murray states, we will be about Stomping the Blues. This event will be recorded and shared later on our YouTube channel.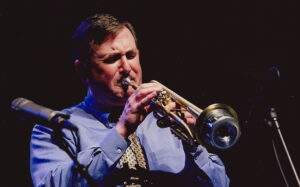 About Jim Ketch:  Jim Ketch is Professor Emeritus of Music and the past Director of Jazz Studies for the Department of Music, the University of North Carolina at Chapel Hill. He retired on July 1, 2020, having spent 43 years teaching trumpet, directing the UNC Jazz Band and Jazz Combos, and teaching classroom courses in jazz history and improvisation. He was the recipient of four teaching awards during his tenure at UNC and spent three years as Chair of the Department of Music. At his retirement, Ketch was presented with a plaque, issued by North Carolina Governor Roy Cooper, inducting him into The Order of the Long Leaf Pine. Read more about Jim.
Saturday, September 24, 11:00am – 12:45pm
Nasher Museum Tour & Jazz Quartet:  "The Art of Jazz" with Nico's Dream
You're invited to an exclusive "Art of Jazz" tour and conversation at the Nasher Museum, led by WPC member and art professor Ruth Caccavale. The tour will be followed by a performance in the galleries by the jazz quartet "Nico's Dream," featuring WPC member Mark Hill on drums.